3MC's GF Spartans vs Newtown Wolves
This was a good match up and fitting for a finals berth.

Both teams kept the game close throughout most of the match with neither side being able to kick away. Wolves just had enough in the tank to secure the W and place our boys as runners up. A massive effort by all our players who represented our black and yellow proudly. Its nice to see the guys go from strength to strength throughout the season.
Sorry to have kept this report short… Blame Rod who really should put more into the team. The far left guy pictured below. Oh and CoVid who does not allow you to watch and support from the sideline.

Its play and then … GTFO

Well done peeps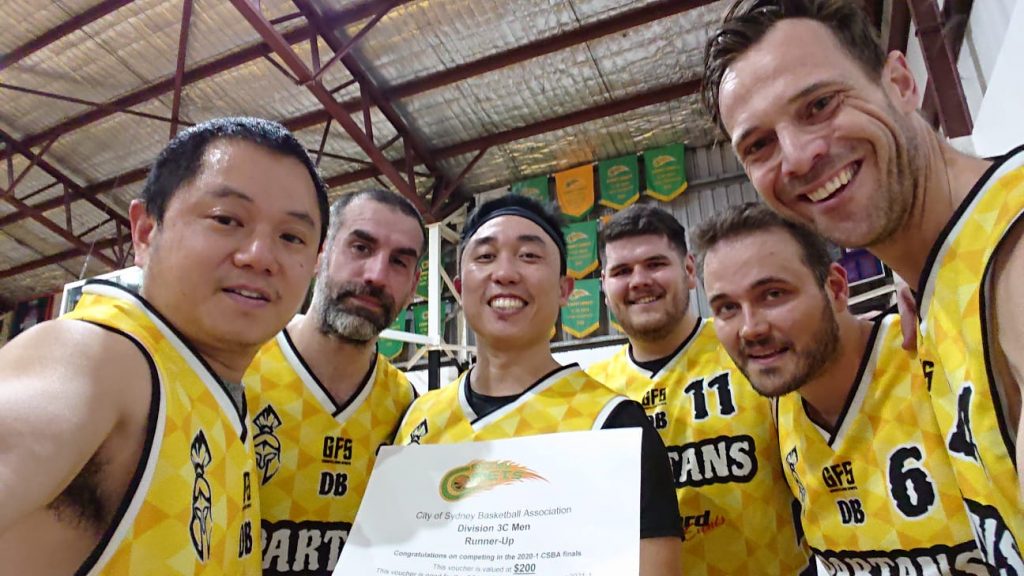 3MA's GF Spartans vs Doosters
Scene was set for the 3 Mens A GF. Both teams had a solid regular season run with a high percentage of W vs Played. Spartans A's copped a hiding the first time these two teams met during the regular season. The second showdown had our A's come away with the narrow victory by playing one of their best collective team games keeping the Spartans A run of solid games going against all teams …. after that particular loss against the Doosters

We had Alz restricted to light minutes due to a niggling shoulder injury but our full squad turned up and played great Spartans Team Basketball.
Defence was kept tight once again and with the ability to go on a scoring run, our A's managed to kick away at the beginning of the second period. After a spate of unforced errors, bad shot selection and general close out jitters moving into the latter half of the period … a much needed time out and yelling from an old man refocused our game. We truly had fought hard to get here and only our best as a team would do.

Ball movement was a beautiful sight to see as our big men attacked the seams and made the layups off well timed entry passes.

We had the (much) old guys get the ball to close out the game.

It was a glorious title win for the A's

Four Years, Eleven seasons. Thats how long its been since out last *chip

Victory tasted like a winners Sundae!!

Thanks to all our squad. It was a joy to be a part of. Maybe I can get some minutes next time… or at least start cutting oranges.